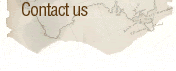 Colonial Medical Life
Ships' surgeons and surgeon-superintendents
Ships' surgeons included surgeons in the regular navy, surgeons on convict ships (often naval surgeons), and surgeons on emigrant and passenger ships. Career naval surgeons were often transient visitors or short-term settlers in Australia, although some settled here permanently. Civilian doctors on voyages to Australia occasionally made a profession of this work, travelling on numerous voyages to and from the colonies, but most made only one or two trips before settling here permanently.
From about 1814 the doctor on the ship is often described as the "surgeon-superintendent". Along with this change of terminology went changes in the role and official status of surgeons on British ships. The position of surgeon-superintendent was a new position. While theoretically a ship might carry a normal ship's surgeon as well as a surgeon-superintendent, it seems the latter was usually the only doctor on board, and he performed the duties of the former, as well as those for which his position had originally been created. Unlike the traditional ship's doctor, however, the surgeon-superintendent was not a member of the ship's crew, but an independent government agent, employed by the authorities responsible for the transport of convicts and emigrants.
The authority of the surgeon-superintendent seems to have been considerable - exceeding that of the ship's captain in some circumstances - not only in medical matters, but also in decisions about disciplinary measures among convicts and emigrants, and for any aspect of ship-board life which affected their health and general well-being, including the cleanliness of the ship. The principal threat to life on the long, cramped voyage to Australia was the spread of infectious diseases such as typhus and smallpox, and it was against this threat that the surgeon-superintendent directed his efforts. In addition, however, he was often employed in providing a programme of education and religious instruction for those under his care. (For further information see The Convict Ships, by Charles Bateson, 2nd ed. Glasgow : Brown, Son and Ferguson, 1969:38-58)

Military surgeons in Australia
The first Australian garrison was formed by marines of the British navy who came with the First Fleet. They were replaced after a few years by the specially-raised New South Wales Corps (1790-1810), which was in turn replaced by a succession of regular regiments of the British army at intervals of between 4 and 7 years. Naval surgeons and military surgeons were generally less well qualified than their civilian counterparts in the early colonial period, although not necessarily less competent. They were in demand when Britain was at war, but during peacetime they were under-employed. As a result they were readily employed in the colonial service, even though this often involved looking after convicts.
Doctors served in regular British army units in Australia until the establishment of the colonial regular army in 1870, when they served as regimental medical officers with colonial units. There was no permanent regular Australian army medical corps until 1891. From early in the nineteenth century, there were two additional avenues for doctors interested in army service: the first was to join a unit of "volunteers"; the second was to join a unit of the "militia", which was a partly paid force also composed of volunteers. A number of these units provided military experience for doctors who were not employed in the permanent army, and they seem to have attracted capable, well-qualified medical men. (For further information see The Origins of the Australian Army Medical Corps by J. Gurner, Melbourne : Hawthorn Press, 1970.)
The pictures below show Assistant Surgeon W. Crooke, Collingwood Company, Victorian Volunteer Rifles (1861) on the left; and Surgeon-Major J. H. H. Lewellin (about 1870, unit unknown) on the right
Reproduced by courtesy of the
La Trobe Picture Collection,
State Library of Victoria

Reproduced by courtesy of the
La Trobe Picture Collection,
State Library of Victoria
Colonial Surgeons and assistant surgeons
Although the information must be available in old records, there is surprisingly little published about the duties of that important and ubiquitous government official, the Colonial Surgeon, who could be found in every district of the Australian colonies. Colonial surgeons in Sydney in the early days were civilian employees of the government, under a Principal Surgeon. They worked in the government hospitals, and possibly elsewhere. In the country their role must have been broader. The position of one early colonial surgeon in Geelong was said to include the duties of Government Medical Officer (a more modern position responsible for public health), care of troops and police, supervision of hospitals and sanitation of the settlement (Brownhill W. The History of Geelong and Corio Bay, Geelong Advertiser, 1990: 616). It would be interesting to know what authority was vested in the Colonial Surgeon.
Although individual hospitals are discussed in detail in the numerous hospital histories of modern times, it is difficult to get an overall picture of Australia's colonial hospitals. Government hospitals predominated in the early years. One branch of these was formed by the convict hospitals, another by the lunatic asylums. The Castle Hill Asylum in Sydney was established in 1811 as a means of removing the mentally ill from the gaols. Its first medical officer was William Bland (qv). Lunatic asylums were a major feature of Australian medical life throughout the colonial period. It would be interesting to know more about these early government hospitals and their medical staff. The impressive building in the picture below is the lunatic asylum in Adelaide (1855).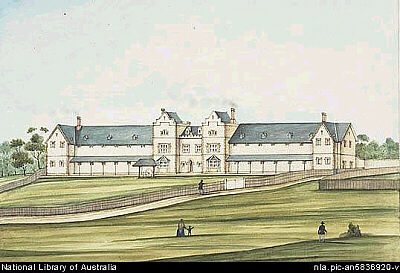 By permission of the National Library of Australia

The government hospitals were followed by a range of charitable institutions which were the predecessors of today's general hospitals and long-term care facilities. These included benevolent asylums, infirmaries and dispensaries. Benevolent asylums cared for the elderly, and for people with chronic illnesses. Infirmaries and dispensaries (for inpatients and outpatients respectively) looked after accident victims and people with acute illnesses. Their roles were often combined - thus the "Geelong Infirmary and Benevolent Asylum". They were usually started by a local benevolent society, which would raise money from subscribers in the community and then petition the government for land. From the 1840s, their running costs were subsidised by the colonial governments. Private hospitals, which were run both as charitable institutions for the sick poor and as hospitals for paying patients, were mainly established by the religious orders. Good examples are the St.Vincent's Hospitals in Melbourne and Sydney. The original Sydney building (1857) is pictured here.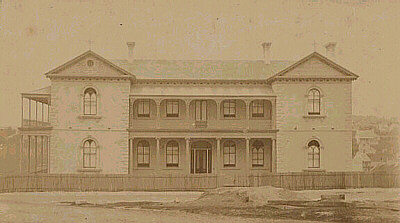 Reproduced by courtesy of the Mitchell Library, State Library of New South Wales

In addition to their salaried, residential medical officers, the public hospitals were served by honorary doctors whose positions were often keenly contested, and they attracted the most highly-qualified practitioners. For surgeons in private practice, honorary appointment to a major public hospital was an important ingredient of a successful career.

The colonial general practitioner
The colonial general practitioner lived and worked in a variety of environments, urban and rural. After the gold rushes, the urban practitioner could rise to a considerable height on the social scale, and many acquired great wealth, occupying grand houses, employing servants, and travelling about in their own carriages pulled by beautifully-groomed horses. At the opposite extreme, the country practitioner often struggled to survive, travelling many miles on horseback to see patients. He delivered babies, and when specialising in that work usually described himself as an "accoucheur". He attended accident cases, and every kind of illness came under his care. At the beginning of the colonial period his treatments were extremely rudimentary, and largely directed at the symptoms rather than the causes of diseases (which were mostly unknown). He prescribed diet, exercise, enemas and leeches. Among the few rational medicines he had were quinine for malaria, digitalis for heart failure, colchicine for gout, and opiates for pain. His great enemy was infectious disease, and it was during the colonial period that the germ theory of disease was finally proved, the particular germs causing some of the worst diseases identified, and rational measures against infection, including vaccination (against smallpox), isolation, cleanliness and disinfectants, were implemented (see timeline)
The commonest colonial medical "specialist" was the surgeon. In the early days, he was mainly called upon to restore or amputate damaged limbs. However great advances in anatomical knowledge during the early colonial period, derived from the dissection of human bodies, greatly increased the range of feasible operations. After the advent of anaesthetics and later of disinfectants in the middle of the nineteenth century, the surgeon was able to venture into the abdominal cavity, the neck, and the chest. Even in the 1860s, however, the operations performed at the Melbourne hospital were limited mainly to minor amputations (fingers and toes), the excision of easily-accessible cancers, treatment of cysts, repair of fistulas (perineal and anal), removal of diseased bone, and the occasional lithotomy. These operations were mainly performed under chloroform (see Australian Medical Journal 1864;9:420-5).
Obstetrics and gynaecology, and ophthalmology, both very ancient specialties, were represented by a sprinkling of practitioners after the middle of the nineteenth century. Some doctors strayed into areas of doubtful provenance, such as homoeopathy, hydrotherapy, mesmerism and electrotherapy. Successful specialists became extremely wealthy and influential men. The picture below shows the surgery of Dr Aubrey Brown, surgeon and oculist, in Collins Street, Melbourne, in about 1870.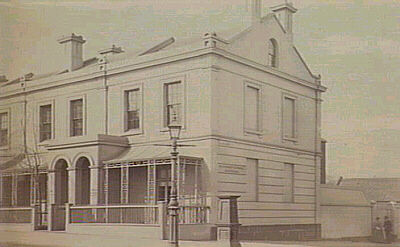 Reproduced by courtesy of the La Trobe Picture Collection, State Library of Victoria
The fees charged by colonial doctors are a subject of considerable interest. The following table of fees was published by sixteen members of the profession in Melbourne in the days before the gold rush. Victoria at this time was less urban than in later years, and many people lived in country areas close to the city. The medical man necessarily travelled long distances, usually on horseback, to visit patients. The idea of the fee structure was partly to prevent his being called out for trivial reasons, particularly at night, when the fee doubled. The class structure of the fee did not refer to the quality of treatment, but to the ability of the patient to pay: probably 1st Class patients were professionals,  2nd Class were clerks and skilled tradesmen, and 3rd Class were labourers.
TABLE OF FEES
Adopted by the Port Phillip Medical Association. Melbourne, November, 1846
The sums stated in the following table are considered as about the average for the First and Second Class, and the minimum for the Third Class; but from the difficulty of framing rules applicable to every case, and the circumstances of every individual, any intermediate sum may be taken in the first two classes.
TOWN VISITS

1st Class

2nd Class

3rd Class

Single visits, from 7am to 9pm

0
10
6
0
5
0
0
3
0

When only one visit is required

1
1
0
0
10
6
0
5
0

Single visits, from 9pm to 7am

1
1
0
0
10
6
0
5
0

--------

Advice at the Practitioner's residence

0
10
6
0
5
0
0
3
0

COUNTRY VISITS

Any distance, not exceeding one mile

0
12
6
0
7
6
0
3
0

Any distance, exceeding one mile, for every additional mile

0
7
0
0
5
0
0
3
0

**these charges will be doubled from 9pm to 7am

DETENTION

Every hour that the Practitioner is detained, either from urgency of the case or desire of the patient or friends

0
10
6
0
7
6
0
5
0

ATTENDANCE IN CHRONIC DISEASES

In chronic diseases a discretionary deviation from the above charges may be made

MIDWIFERY

Attendances in ordinary cases, in Town

5
5
0
3
3
0
1
1
0

In Country cases, in addition to the Fee for Country visits (subsequent visits not included)

5
5
0
3
3
0
1
1
0

**Midwifery fees to be made payable at the time

CONSULTATION

Consultation with Physician or Surgeon

1
1
0
0
10
6
0
7
6

Consultation by letter

2
2
0
1
1
0
0
10
6

Consultation in Midwifery

3
3
0
2
2
0
1
1
0

** Consultation Fees are to be paid at the time

--------

Certificate of Health

1
1
0
0
10
6
0
5
0

SURGICAL OPERATIONS

Capital operations

21
0
0
10
10
0
5
5
0

Lesser operations

5
5
0
3
3
0
1
1
0

Vaccination

0
10
6
0
7
6
0
5
0

Extracting teeth, bleeding, cupping, and similar operations

1
1
0
0
7
6
0
5
0

Fractures and dislocations

5
5
0
3
3
0
1
1
0

**In all the above cases the charge is made for the operation only. The subsequent visits will be an additional charge

Miscellaneous colonial medical occupations
Coroners were doctors during the colonial period. Apart from the doctors employed on convict ships and in the convict hospitals, there were doctors who worked in the Australian prison service as such. Medical research was conducted by doctors and chemists: judging by the number of relevant publications in the medical journals, a surprisingly large amount of medical research was conducted by general practitioners who collected and analysed statistics of illness, tried out various treatments, and conducted experiments in makeshift laboratories. Medical lecturers were employed at Melbourne university in the later decades of the nineteenth century, these positions attracting men of exceptional ability. Doctors also worked as editors of the medical journals. Exploration continued throughout the colonial period, and a number of doctors accompanied these expeditions.
Many colonial doctors became successful primary producers, usually abandoning medicine in the process. Many doctors, while not deserting their profession, acquired considerable expertise as amateur botanists, ornithologists, entomologists, zoologists, and geologists. Quite a number became magistrates and mayors. Many were company directors, and some entered parliament.

Qualifications of Colonial Doctors
(Compiled by S. Due from AMPI data)
Medical qualifications in colonial times make an interesting study in themselves. An apprenticeship system operated side-by-side with university medical education, resulting two kinds of qualifications, one kind issued by universities, the other by medical colleges. Some practitioners acquired qualifications of both kinds, most commonly the MD, coupled with the LSA and/or MRCS.
Place names are often abbreviated when citing qualifications. For commonly used abbreviations of place names see below .
| Abbreviation | Qualification | Where awarded | Aprox numbers in database |
| --- | --- | --- | --- |
| CM | Certificate of Midwifery | Glasgow Edinburgh Dublin | 20 |
| ChM, ChD | Master of Surgery, Doctor of Surgery | Glasgow Aberdeen Dublin etc | 60 |
| FFPS | Fellow of the Faculty of Physicians and Surgeons | Glasgow | 4 |
| FRCS | Fellow of the Royal College of Surgeons | England Ireland Edinburgh | 80 |
| LAH | Licentiate of Apothecaries Hall | Dublin London | 70 |
| LFPS | Licentiate of the Faculty of Physicians and Surgeons | Glasgow | 130 |
| LKQCP | Licentiate of the King's and Queen's College of Physicians | Ireland | 40 |
| LM | Licence in Midwifery | Glasgow Dublin | 10 |
| LQCP | Licentiate of the Queen's College of Physicians | | |
| LRCP | Licentiate of the Royal College of Physicians | London Edinburgh | 160 |
| LRCS  | Licentiate of the Royal College of Surgeons | Edinburgh Ireland | 400 |
| LSA | Licentiate of the Society of Apothecaries | London | 600 |
| LWCA | ?? | | 4 |
| MA | Master of Arts | Various | 20 |
| MB | Bachelor of Medicine | Various | 100 |
| MB (SR) | Bachelor of Medicine (Special Regulations) | Melbourne | 8 |
| MD | Doctor of Medicine | Edinburgh St. Andrews Glasgow Aberdeen London Berlin etc | 700 |
| MD aeg | Doctor of Medicine ad eundem gradum | Melbourne | 60 |
| MFPS | Member of the Faculty of Physicians and Surgeons | Glasgow | 1 |
| MRCP | Member of the Royal College of Physicians | London Edinburgh | 20 |
| MRCS | Member of the Royal College of Surgeons | England Edinburgh LondonIreland | 1100 |
| MS | Master of Surgery | Various | 20 |
| | | | |
Abbreviations of place names used in medical qualifications in colonial times
| Abbreviation | Place | Example |
| --- | --- | --- |
| | | |
| Cantab | Cambridge | MA Cantab |
| Dub | Dublin | |
| E | England | MRCSE |
| Ed | Edinburgh | LRCP Ed |
| Edin | Edinburgh | |
| Eng | England | |
| G | Glasgow | LFPSG |
| Glas | Glasgow | |
| I | Ireland | LRCSI |
| Lon | London | |
| NY | New York | |
| QUI | Queen's University of Ireland | |
| St A | St Andrews, Scotland | |
| TCD | Trinity College Dublin | |
Medical qualifications fell into two categories. Licenses were awarded by medical colleges, which required the candidate to undergo an apprenticeship, acquire some hospital experience, undertake a course of study and pass the college examinations. Academic degrees, most commonly the MB and the MD, were awarded for academic achievement. The MB included practical work, but the MD might be awarded purely for passing an examination, or for a thesis, or for written work already published. Some (mainly continental) MDs were awarded to doctors who had never attended a university, but had submitted a thesis or their publications: thus "MD Giessen" does not imply that the docotor was ever in Germany.
There were two special kinds of Melbourne degrees. The first was the  "MD aeg", which was awarded from 1856 onwards. The letters "aeg" stand for "ad eundem gradum" (at the same level). Melbourne University from 1856 offered this degree to graduates with the MD of any British and almost any continental university. Secondly, after the Medical School was founded in 1862, there was an arragement known as the Special Regulations, which allowed experienced practitioners with no university training to sit for examinations for the MB without doing the course. Of the few who sat the examinations under these regulations, several failed, including the President of the Medical Society of Victoria (at his first sitting)! (For further information see Russell K.F. The Melbourne Medical School. MUP, 1977.)
The publications associated with colonial doctors include those which they wrote themselves, and those written about them by later biographers and historians. The following illustrations and notes are designed to give a general idea of the range of publications in both categories.
The earliest of these publications are journals kept by a number of doctors on their voyages to Australia. The original editions are rare, but various reprints have appeared. Shown below are John White's First Fleet Journal (Angus & Robertson 1962), and the journal by Peter Cuningham RN, who was a surgeon on convict ships in the 1820s. (Angus and Robertson 1966).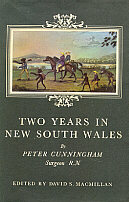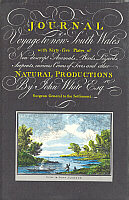 Australian medical books as such began to appear in the 1840s. The first purely medical work published by a doctor in Australia was the Familiar treatise on the Diseases of the Eye by Robert Porter Welch (Sydney, 1840). This was followed by William Bland's Paper on the Present Epidemic of Scarlatina (Sydney, 1841). By the 1850s there was a small but steady stream of Australian medical publications. Because the professional market was limited, many of these were aimed at the general public. The effect of the Australian environment on health was a popular subject with medical writers and their readers.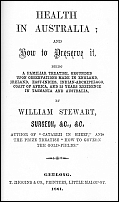 The first colonial medical journal was published in Sydney in 1846. However it was not until the establishment of the Australian Medical Journal in 1856 that Australia acquired a professional medical journal of international standing. Although many colonial doctors continued to send some of their articles to England for publication in journals such as the Lancet, which were also circulated in Australia, the abler and more progressive writers among them consistently supported the local publications. The table below lists the colonial medical journals up to the1880s. The two most important ones are in bold type. For more detailed information see Due S. Early medical journals of Australia. Medical Journal of Australia 1994;161:340.
| Period | Publication | Location |
| --- | --- | --- |
| 1846-1847 | Australian Medical Journal | Sydney |
| 1856-1895 | Australian Medical Journal | Melbourne |
| 1861-1863 | Medical Record of Australia | Melbourne |
| 1863-1865, 1873-1875 | Medical and Surgical Review (Australasian) | Melbourne |
| 1869-1871 | Australian Medical Gazette | Melbourne |
| 1870-1875 | New South Wales Medical Gazette | Sydney |
| 1875-1877 | Melbourne Medical Record | Melbourne |
| 1877-1878 | Australian Practitioner | Sydney |
| 1881-1914 | Australasian Medical Gazette | Sydney |
The following selection of articles from the Australian Medical Journal in the 1850s and 1860s shows the colonial doctor's commitment to scientific medicine. (Clicking on these pages allows you to read the article).
There are several excellent biographies of colonial doctors. Illustrated here are those of George Bass, naval surgeon and explorer (Oxford University Press 1952), and James Neild, an important early editor of the Australian Medical Journal (Melbourne University Press 1989)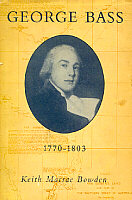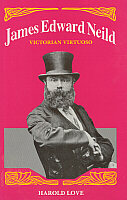 There are many biographical articles about pioneer doctors, mainly in the Medical Journal of Australia, the Australian and New Zealand Journal of Surgery, the Journal of Medical Biography, the Australian Dictionary of Biography, and the series Occasional Papers in Medical History Australia, which includes proceedings of the conferences of the Australian Society for the History of Medicine.The Society also publishes the journal History and Health, which contains biographical articles.
An excellent source of information about journal articles and monographs on pioneer doctors and colonial medical history is the Annotated Bibliography of the History of Medicine and Health in Australia by B. Gandevia, A. Holster and S. Simpson (RACP 1984).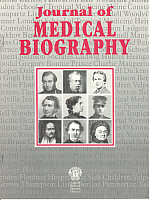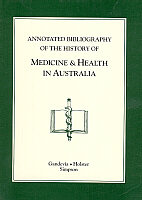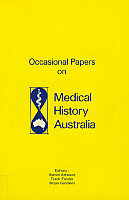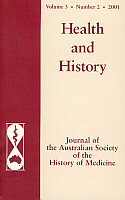 Numerous articles on pioneer doctors and colonial medicine have appeared in recent years in a series of publications edited by John Pearn and published by the Amphion Press in Brisbane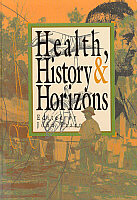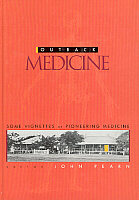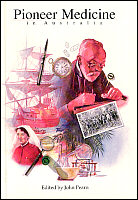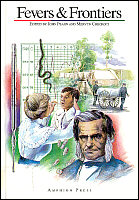 A few books look simultaneously at the lives and work of a number of pioneer doctors in a particular geographical area. These include the two by K. M. Bowden pictured below (Goldrush Doctors of Ballarat and Doctors and Diggers on the Mt. Alexander Goldfields, published by the author in 1977 and 1974 respectively). Two other books of this kind are K. M. Brown's Medical Practice in Old Parramatta (Angus and Robertson 1937) and B. C. Cohen's History of Medicine in Western Australia : a Biographical and Historical Account to 1900 (Paterson Brokensha 1965).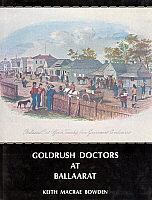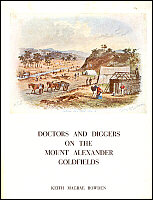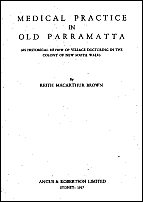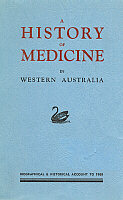 | | | |
| --- | --- | --- |
| Australian history landmarks | World medical landmarks | Australian medical landmarks |
| 1770 Captain Cook | | |
| 1788 First Fleet, Surgeon General John White | | |
| | 1796 Smallpox vaccination (Jenner) | |
| | | 1797 Government Hospital Sydney |
| 1798 George Bass, Naval Surgeon, discovers Bass Strait | | |
| 1804 Hobart established | | |
| | 1812 Founding in America of the first modern medical journal, the New England Journal of Medicine | |
| 1813 Crossing of the Blue Mountains | | |
| | 1816 Stethoscope invented (Laennec) | 1816 "Rum Hospital" Sydney |
| 1829 Settlement of Western Australia | | |
| 1830 Sturt reaches the mouth of the Murray River | | |
| | | 1832 Quarantine Station Sydney Heads |
| 1835 Melbourne founded | | |
| | | 1840s Scarlet fever epidemics |
| | 1843 Puerperal (childbed) fever explained | |
| | 1844 Ether anaesthetics invented | |
| | 1846 Anaesthetics used in surgery | 1846 Port Phillip Medical Association |
| | 1847 Chloroform in childbirth | |
| | | 1848 Melbourne Hospital |
| 1851 Gold rush | | |
| | | 1852 Quarantine Station Point Nepean |
| 1854 Eureka Stockade | 1854 Cholera proved to be transmitted in drinking water | 1854 Vaccination Acts (several States) |
| | | 1856 Australian Medical Journal |
| | | 1857 Smallpox epidemic, Victoria |
| | | 1858 Diphtheria epidemic begins in Victoria |
| 1860 Burke and Wills | | |
| | | 1862 Melbourne Medical School |
| | 1865 Carbolic acid in surgery | |
| | | 1867 Measles epidemic, Sydney |
| | 1879 Germ theory of disease conclusively proved (Koch and Pasteur). | |
| | | 1883 Sydney Medical School |
| 1895 X-rays discovered (Roentgen) | | |
| 1897 Malaria proved to be transmitted by Anopheles mosquito (Ross) | | |